Compaction Equipment / DV23CD
---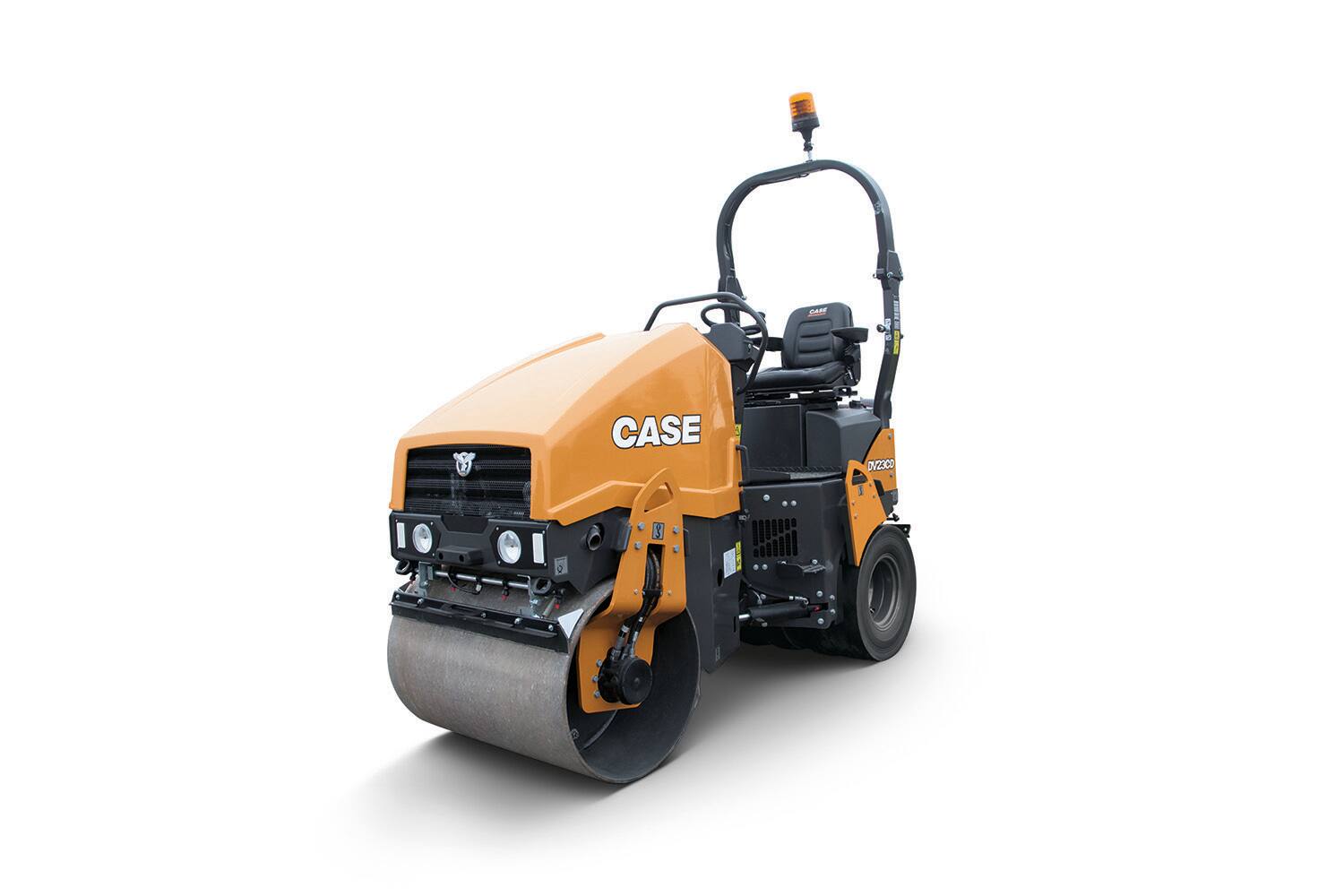 Overview
The Tier 4 Final DV23CD combi roller gives small asphalt applications the dual benefit of high-performance compaction and improved finishing work with a single machine. The front drum delivers a centrifugal force of over 9,200 lb. and offers high and low frequency settings as well as automatic vibration stop and tapered edges. On the rear, pneumatic tires provide a kneading action that results in fewer voids for a well-sealed surface. Together with the machine's low-profile frame, contractors have an incredibly versatile and nimble machine to achieve excellent densities and smoothness right up to curbs or in tight areas.
Features
Purpose-Built Performance
The productivity of the DV23CD starts at the frame. It touts nearly 20 inches of curb clearance, has an oscillating articulation joint for reliable drum-to-ground contact, and has no overhangs, allowing you to work alongside structures or obstacles. The hydrostatically driven front drum comes standard with dual frequency, auto or manual vibration control, and features a tapered drum edge to minimize tearing through turns. The rear pneumatic tires can be paired with an ACE Force Intelligent Compaction System for precise results. And an adjustable, pressurized water system maintains even flow to front drum and back tires regardless of grade and has two-stage filtration to avoid clogs.


Common-Sense Fuel Efficiency
The DV23CD delivers fuel-efficient performance and meets Tier 4 Final emission standards while requiring minimal involvement from the operator. With its DOC system (Diesel Oxidation Catalyst), there's no exhaust fluid to add and no regeneration necessary.


CASE Comfort & Visibility
Thanks to a tapered, low-profile hood and a lateral-sliding suspension seat, operators can easily see around the machine and to the drum edges. The control lever is integrated into the seat structure and has vibration and sprinkler switches built into the joystick instead of the dashboard. This gives operators full, responsive control without having to take their eyes off the pavement. And to minimize vibrations, the operator's platform is isolated from the chassis, mounted on heavy-duty shock absorbers. Additional comfort options include a weather canopy and heated seat.


Simple Serviceability
All fluid ports, drains, filters and service checkpoints are grouped on one side of the machine for simplified maintenance. Sprinkler heads are also easily accessible and the adjustable drum scraper helps reduce maintenance requirements.
Brochures
Specifications
Engine Power

33.5 hp | 25 kW

Operating Weight

4,600 lb | 2 085 kg