Making Every Seed Count
Precision Planting products are being used by thousands of farmers every year to increase the efficiency of their planting operation. Precision Planting products will help you achieve greater accuracy in seed placement, optimum seedbed conditions, and faster planting speeds that result in quick, even emergence. At Titan Machinery, we have the trained staff and service technicians to help you pick and install the right Precision Planting system components for your planter and operation. From meters to monitors to seed delivery products and more, you can trust the experts at your local Titan Machinery dealership to partner with you to provide the products and support you need to take your seeding operation to the next level. Whether retrofitting your existing planter or speccing out a new one, the product specialists at your local Titan Machinery location are ready to provide the information you need to proceed with confidence in building the planter your operation needs.
Call today or click below to complete the short form and one of our Precision Farming Specialists will follow up with you.
Monitoring and Measurement
Improved planting performance starts with accurate measurements and precise control over inputs. Monitoring the exact seed input gives you the data to make quick decisions and evaluate your approach for the next pass or even the next season. Precision Planting's 20|20 technology allows you to make better decisions as it monitors, controls, and diagnoses your field conditions and equipment performance in real-time, and their harvest data tools give you accurate data for spatial management.
DeltaForce® Downforce Control
Ensuring consistent downforce across the planter toolbar within a wide-range of field conditions is one of the most basic and crucial components of achieving even emergence. DeltaForce is an automated row by row downforce control system that automatically adjusts and measures downforce every time there is variability in your field. Utilizing hydraulic cylinders and load cells for each row, DeltaForce ensures each seed from each row is at the correct depth with the correct level of compaction.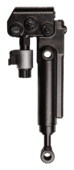 Meters
The ability to meter seed effectively without skips or doubles regardless of seed size, shape, or variety is the key to achieving "picket-fence" stands for maximum yield potential. Precision Planting offers a variety of planter meter options designed to produce uniform stands on a wide variety of makes/models of planters. While traditional seed meters need continuous adjustments to prevent lost yield, Precision Planting's meters singulate seeds without any adjustments leading to perfect seed placement throughout your field.
Seed Delivery
Whether it's increasing your planting speed, keeping a consistent seed spacing, or ensuring an accurate population count, having the correct data will gives you confidence in your planting. Precision planting offers three different seed delivery systems, SpeedTube, BullsEye, and WaveVision that are created to decrease your planting time and give you the accuracy and assurance of exact seed placement. Letting your row cleaners run incorrectly can be costly and results in late emergence and a loss in profit, so the correct technology protects you and your yield.
Emergence
Creating a clean, even seed furrow is an essential step to ensuring optimal emergence for your row crops. Precision Planting offers a number of upgrades that help producers achieve this goal. Whether it's allowing growers to respond quickly to changing field conditions or providing precise seeding depth changes from the cab, Precision Planting gives growers the flexibility to monitor their planting depths without leaving the cab!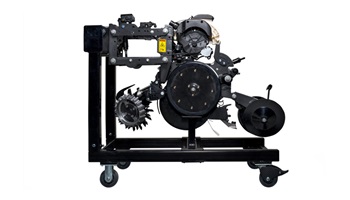 Liquid Control/Delivery
Most fertilizer flow meters tell you whether or not the fertilizer is flowing, but not the rate at which it is being applied. With Precision Planting's technology, you are able to monitor the amount of fertilizer your are applying on each row. The most efficient time to distribute fertilizer is during the planter pass, so having a control system that keeps things clean with low maintenance eliminates the stress of upkeeping a nitrogen attachment.
Ready to get started?
Fill out our Contact Form to be connected with one of our Precision Experts today!