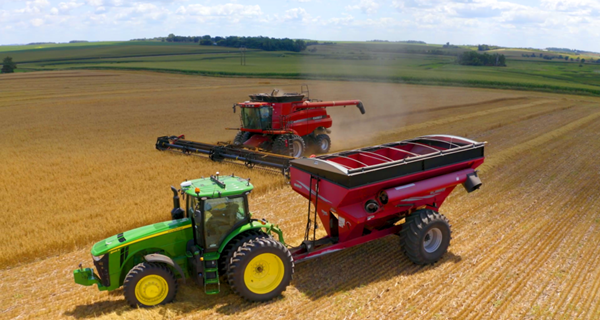 Easy to Use, Field-Proven Autonomous Grain Cart Solution
Harvest time can put a huge strain on your farm's available resources. Raven's new OMNiDRIVE™ autonomous grain cart system can help free-up manpower by eliminating the grain cart operator and allowing the combine operator to monitor and control the grain cart tractor as it unloads the combine and travels back and forth to the truck-loading area of the field. OMNiDrive is a field-proven, easy to use technology with built-in safety features that ensures that the tractor stays within user-defined boundaries and avoids obstacles.
Basic Operation
OMNiDRIVE integrates with the tractor's operating system to control the steering, throttle, and transmission functions. A remote operator (typically the combine operator) controls the functions of the tractor, sets the boundaries for the tractor to operate in, sets a truck unloading point and traces a rough path for the tractor to follow from the combine to the unloading point using a tablet. As the field is harvested, the operator commands the tractor and grain cart to return to the combine to unload. Once the tractor and cart are in position to unload the combine, the tractor automatically synchs with the combine to maintain the correct distance and speed for unloading. When the grain cart is full, the tractor returns to the pre-programmed truck unloading point. The truck driver will then unload the cart into the truck. A robust safety system including cameras and radar is installed on the grain cart tractor to ensure that collisions with people, animals, vehicles and other obstacles are prevented.
Equipment Requirements
OMNiDRIVE is compatible with a full-range of grain carts and combines. Currently, the system can be installed on the following tractors:
Case IH Magnum CVT Series (MY 2014-2020): M250 / 280 / 310 / 340 / 380 (Coming Soon)
New Holland GENESIS® T8 CVT Series (MY 2014-2020): T8.320 / 350 / 380 / 410 / 435 (Coming Soon)
Additional tractor makes/models are being tested and will be added to the above list. Consult your local Titan Machinery dealership for an updated tractor compatibility list.
Raven OMNiDRIVE offers farmers an easy to deploy, safe driverless tractor solution to address manpower shortages during the busy harvest season. Titan Machinery has invested in the training and infrastructure to provide the support you need to take the next step towards farming automation. For more information, or to request a demo or quote, click the link below and one of our tractor automation experts will be in touch with you shortly!