K-Tec™ Scrapers - Leading the Earthmoving Industry
If you are looking to move large amounts of soil and material at the lowest cost-per-yard, look no farther than K-Tec scrapers from Titan Machinery. K-Tec offers the most efficient line of earthmoving equipment in the industry, and Titan Machinery is the largest dealer in the world for K-Tec scrapers. We have sold and rented more K-Tec scrapers than any other dealer, and we carry the largest inventory of for-sale and rental K-Tecs in the U.S. Put our knowledge and experience to work for you on your next earthmoving project. We carry a large fleet of K-Tec scrapers along with Case IH Steiger scraper tractors and scraper Quads for sale and for rent.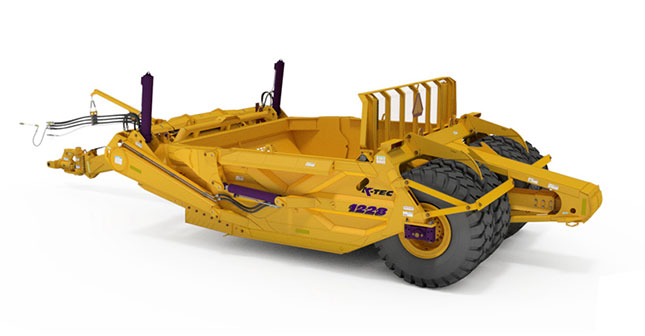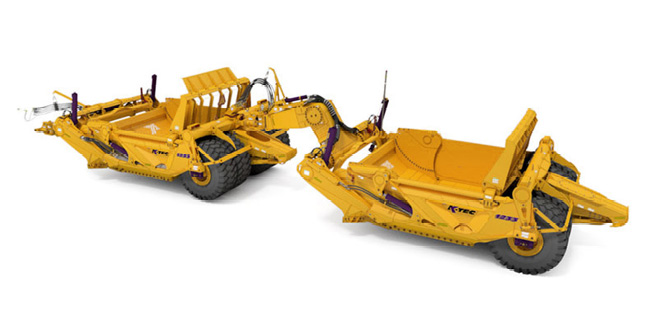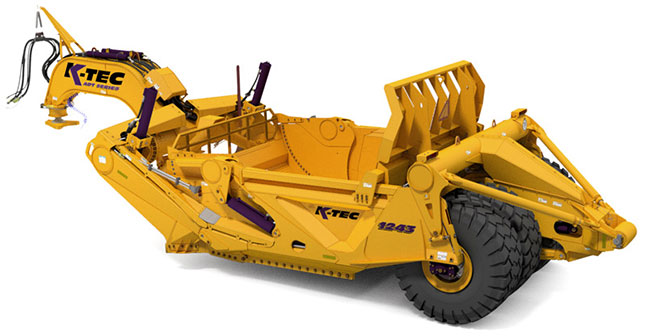 K-Tec scrapers are built to handle the harshest conditions on the planet, require minimal maintenance, and are backed by a 3 year structural warranty from the Factory for peace of mind and maximum uptime. Faster cycle times, greater load capacities, and less downtime makes your operators more efficient on every job. The high productivity means more yards moved per day, and at a lower operating cost - putting more dollars into your pocket at the end of each construction season.
The K-Tec Advantage:
The most efficient, lowest cost/yard* method of moving material for most dirt and earthmoving projects due to quick and easy fill and unload, plus large capacity.
Designed for ease-of-use with features including a wide gate opening and an ejector that pushes through the complete floor of the scraper for quick, complete clean-out of material. K-Tec performs where other scrapers may struggle, especially in filling and dumping full loads in sticky clay conditions.
Built to withstand the rigors of the jobsite - with heavy duty high-grade steel, heavy cylinders and very few service points.

K-Tecs are widely considered the best scraper in the industry. Highly productive, durable, dependable, easy to operate and maintain. They were the first to build a high-capacity pull-type scraper designed for heavy-duty construction site work. Others have imitated some of the design features of the K-Tec, but no one has been doing it as long or as well as K-Tec.
*Some exceptions apply. Consult with a Titan Machinery scraper expert to determine the right fit for your application.
The Titan Machinery Advantage:
Titan Machinery was one of the first dealers in the US to distribute K-Tec scrapers. Over the last nearly 2 decades we've sold and rented hundreds of K-Tec scrapers and scraper tractors. Regardless of the type of earthmoving project you are considering, chances are we've put equipment on similar jobsites. We offer contractors more purchase options including brand new scrapers and tractors, or scrapers/tractors with one, two or more seasons on them. Extensive experience in the scraper business and greater selection has made Titan Machinery the first choice for scrapers for many dirt-moving contractors in our region. Contact your local Titan Machinery location or click the link below to have your questions answered by one of our experienced scraper experts.