Compaction Equipment / DV45CD
---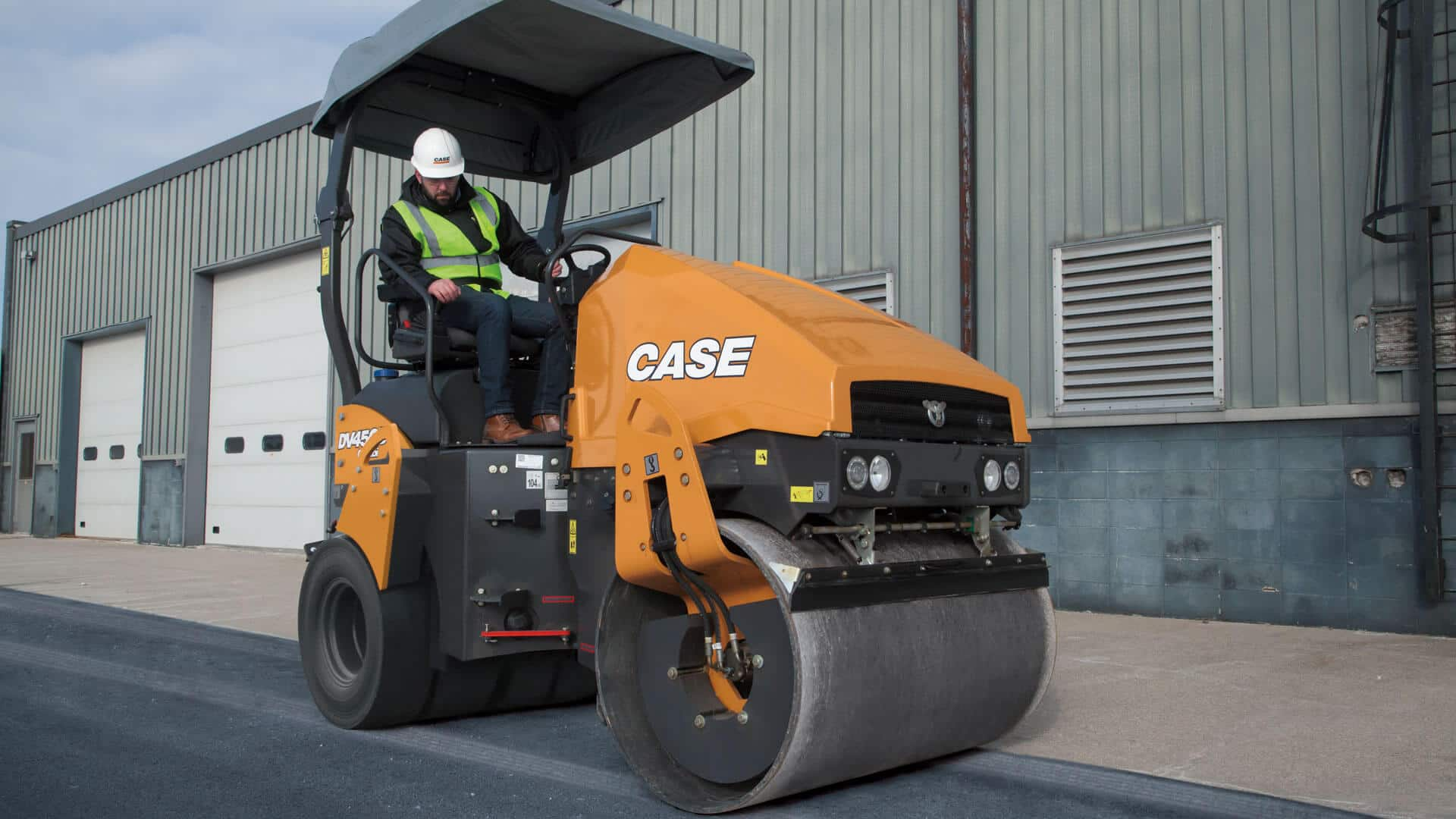 Overview
Combining a 51.2-inch front vibratory drum with four rear pneumatic tires, the mid-sized DV45CD combi roller brings brute-force compaction and true finishing capabilities to the jobsite, all in one machine. Its controls, Tier 4 Final emissions solution and serviceability are all designed for simplicity, while a nimble structure and assortment of high-performance features ensure consistent and precise compaction in a wide variety of applications.
Features
Purpose-Built Performance
From first to final pass, the CASE DV45CD improves densities, reduces voids and saves time. The front drum delivers centrifugal forces of more than 12,350 lbf. and features a robust design with tapered edges to avoid tearing. This is complemented with standard functions such as dual amplitudes and frequencies (45 and 57 Hz) as well as an auto-vibration shutoff switch to help with starts or stops. An ACE Force Intelligent Compaction system is also available.
The kneading action of the rear pneumatic tires improves surface quality and provides a better smooth. A superior water system features adjustable pressurization and dual filtration to provide steady flow to every nozzle. And thanks to an articulated and oscillating frame with no overhangs, operators are able to compact alongside high curbs, through turns and near obstacles.


Common-Sense Fuel Efficiency
Tier 4 Final compliance is achieved with a DOC (Diesel Oxidation Catalyst). This solution allows for efficient performance without any additional effort from the operator. There's no new fluid to add and no regeneration downtime. It's emissions made easy.


CASE Comfort & Visibility
The overhang-free design of the DV45CD, combined with a lateral sliding suspension seat, make it easy for operators to get the best vantage point down to the pavement from either side of the machine. And with switches for water and vibration shutoff on the seat's integrated drive lever instead of on the dash, operators can make adjustments when necessary and without taking their eyes off the pavement. Additional comfort options include a weather canopy, a heated seat and dual-drive levers.


Simple Serviceability
The hood of the DV45CD flips forward to give full access to engine service items and daily checkpoints, fill ports and drains. Routine maintenance items are conveniently located on one side of the machine and spray nozzles are also easily accessible.
Brochures
Specifications
Engine Power

43.9 hp | 32.8 kW

Operating Weight

9,520 lb | 4 320 kg