Bush Hog Rotary Cutters and Implements
Tough mowing projects require a mower built to take on the toughest vegetation and brush over the roughest terrain. Bush Hog pioneered the all-purpose rotary mower in 1951 and has been making heavy-duty mowers that set the standard for ease-of-use and durability since then. Whether you are mowing highway right-of-ways, maintaining thick pastures and CRP, clearing/maintaining food plots and brushing-out shooting lanes, or tackling heavy grass vegetation, nothing is a match for a Bush Hog. They're designed to deliver superior performance in tough conditions, day after day, and year after year.
As one of the largest authorized Bush Hog dealers in the U.S, Titan Machinery has the inventory and experience to match you to the right Bush Hog rotary cutters, mower, landscape tool, snow blade, tiller or more. We carry a great selection of Bush Hog products and parts in inventory.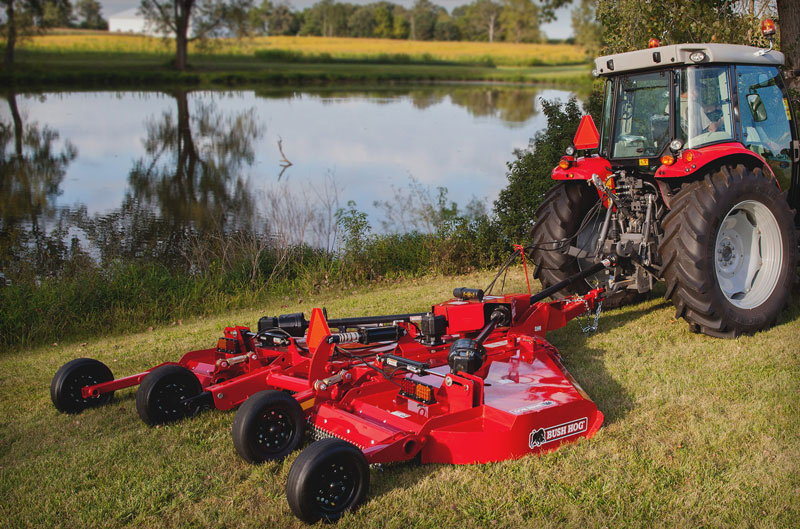 Flex-Wing Rotary Cutters
Bush Hog flex-wing rotary cutters are known for their performance, durability and longevity. If you need a tough mower that can handle large cutting jobs day after day, check out the Flex-Wing line of Rotary Cutters. Bush Hog flex-wing rotary cutters incorporate the latest in design and build quality to give you years of dependable service. Flex-wings are available in cutting widths from 10 to 20 feet with cutting heights from 2-14 inches. Wings float independently over uneven terrain to provide a uniform cutting appearance. Whether you're maintaining a rolling pasture or orchard, clearing heavy crops or overgrown roadsides, our trained sales staff can help you find the model that meets your needs and tractor requirements.
Single-Spindle Rotary Cutters
Bush Hog invented the single-spindle rotary cutter in 1951. Today, Bush Hog continues to lead the industry in building durable rotary cutters that perform in a wide variety of applications. Bush Hog offer single-spindle cutters ranging from the economy-class BH100 Series that are purpose-built for smaller, compact tractors to the BH516, designed to take down virtually any unwanted vegetation. These cutters are at home mowing overgrown grass and weeds, clearing farms, managing wildlife food plots or shooting lanes and managing miles of dense vegetation on gas lines. Bush Hog's single-spindle rotary cutters get the job done for a variety of common applications. Titan Machinery stocks a variety of sizes and configurations of these affordable, durable American-made rotary cutters.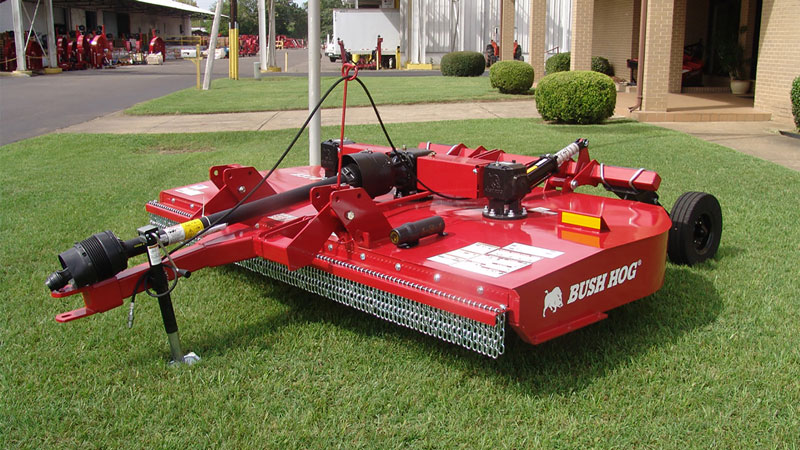 Multi-Spindle Rotary Cutters
Bush Hog multi-spindle rotary cutters are designed to provide more cutting efficiency when mowing tough grass, weeds, brush, and row crops. With cutting widths from 7 to 15 feet, and a range of hitch types and mounting options, these machines are built for durability, superior performance, and productivity with minimal maintenance for years to come. The go-to choice for many row crop farmers, ranchers, orchard managers, and serious weekend warriors, Bush Hog's Multi-Spindle lineup will help you get the job done and in less time.