ARCTIC SECTIONAL SNO-PUSHERSTM
SIMPLY THE MOST EFFICIENT WAY TO MOVE SNOW
Arctic sectional snow pushers set the industry standard for productivity and efficiency in snow and ice removal. The patented, spring-loaded, sectional moldboard design ensures that the cutting edge remains in tight contact with the road or parking lot surface while allowing individual section to pop-up over obstacles and obstructions. Nobody sells more Arctic snow plows than Titan Machinery. Scroll below to learn more about the features and benefits of the Arctic Sno-Pusher line, view current offers, place a parts request and browse current Titan Machinery Arctic Sno-Pusher inventory.
Product Features
No other snow pusher on the market combines the key features that make the Arctic Sno-Pusher the best tool to turn your loader, mini-wheel loader, skid steer, compact track loader or backhoe into an efficient snow-moving machine.
PATENTED SECTIONAL MOLDBOARD DESIGN - Each spring-loaded section of the pusher is free to adjust independently up or down in response to obstacles and the terrain. Ranging in size from 32" on the HD models to 30" on the LD models to 24" on the CD models, this patented design allows the plow to follow the grade of any surface for cleaner passes.
SPRING-LOADED TRIP EDGES - Each individual moldboard section independently trips over unseen obstacles beneath the snow, leading to increased operating speeds, reduced damage to the pusher and the machine it's mounted to, and a more comfortable operator experience.
PATENTED SLIP-HITCHTM UNIVERSAL COUPLER SYSTEM - Just drop the pusher and go! The slip-hitch will automatically adjust and then continuously readjust to the pavement height, providing optimal traction, reduced drag and maximum pushing power.
MECHANICAL SIDE PANELS - Mechanical side panels lift up to 9 inches high to glide over and around obstacles, providing 75% higher clearance height than competitive models.
AR-400 STEEL CUTTING EDGES AND SHOES - Arctic's AR-400 hardened steel cutting edges and shoes provide long life and scrape compacted snow and ice down to the pavement, eliminating follow-up plowing and reducing your salt usage.
POLYURETHANE MOUNTING BLOCKS - Specially-engineered polyurethane mounting blocks secure each moldboard section to the pusher's mainframe, absorbing impact to protect the pusher, carrier and operator. Three torsion springs fasten to the steel cutting edge of each independent section.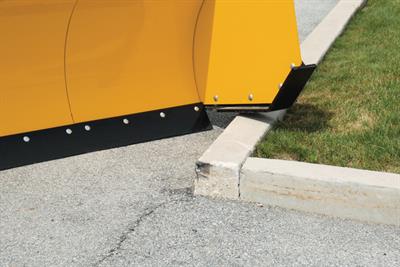 Click on the videos below to see the Arctic Sno-Pusher in action mounted on a variety of carriers.
Parts
As the largest dealer of Arctic Sno-Pushers, Titan Machinery stocks a full line of genuine Arctic Sno-Pusher replacement parts at our network of construction equipment locations. We have you covered for all your Arctic Sno-Pusher parts needs including: wear shoes, torsion springs, cutting edges, side panes, poly mounting blocks, hardware and more. Contact your local Titan Machinery location to order or click below to request an online parts quote.